Section

Model

QTY

Info.

1

Glass Straight Line Double Edging Machine

SM 2040

1 SET

4-meter glass edger

20 spindles + 2

2

Transfer table (L type)

SZL4025

1 SET

Conveyor from #1 to #2

3

Glass Straight Line Double Edging Machine

SM 2025

1 SET

2.5-meter glass edger

20 spindles + 2

Remarks: The last two spindle motor can be optionally equipped with optional low E deletion device or enhanced polishing with extra CE-3.
² General Information
The edging production line is beginning on 1# edging machine, and the transfer table is automatically turned to the long side of the 2# machine grinding machine. The processing speed is 1-15m/min.
PLC control system to set the processing parameters through the monitor interface to complete the processing at one time. The stable and solid base structure contribute to precise and fast width adjustment system. The main transmission adopted timing belt (Italian branded) and is equipped with variable frequency motor speed control. Under modular design concept, the double straight edge machine can be equipped with enhanced polishing and low e deletion devices. The polishing spindles can be selected pneumatic polishing or automatic feeding polish which improving the polishing quality and reduce the labor intensity of workers. Safety feature such as safety rope protection mechanism can be find in the machine to protect the operator and maintenance personnel. The whole line has compact structure, stable and reliable performance, high degree of automation, and high production efficiency. It is the best supporting machine for large-scale furniture and architectural decoration glass processing. It can be paired with production lines such as lamination, printing and tempering.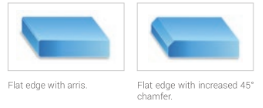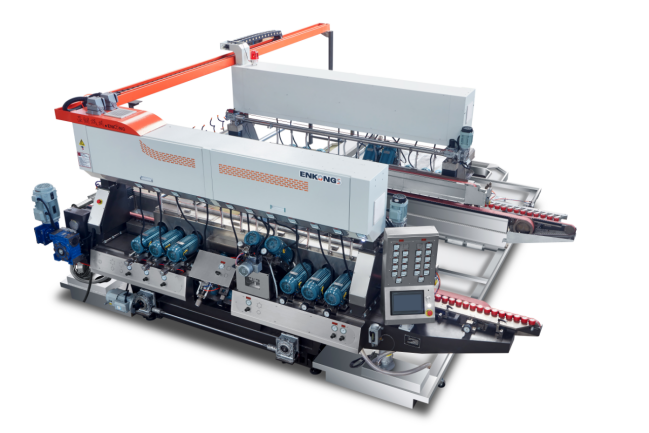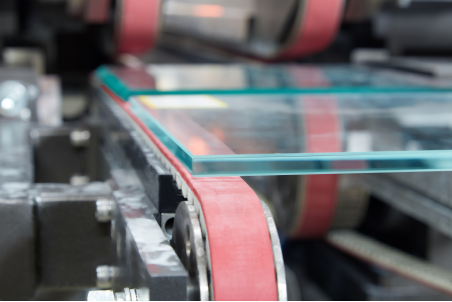 ² Wheel Configuration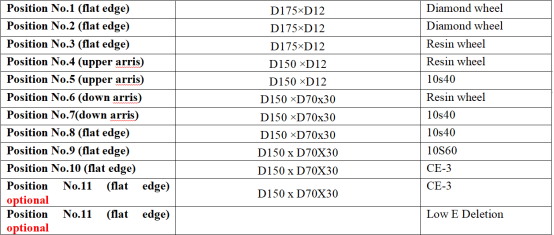 ² Technical Specification
Min. glass size

350 mm

350 mm

Max. glass dimension

4000mm

2500mm

Glass thickness

3-25 mm

Belt transmission speed

1-15m/min;

Max. edge grinding

3mm

Working heigth

920 ±30mm

Operating pressure

≥0.6MPa

Width adjustment Speed

8m/min

Diagonal Tolerance

≤0.5mm/m

Parallel Tolerance

≤0.15mm/m

Power

110 KW

110KW

Weight

8500 Kg

8100 Kg
² Machine Detail
- Control System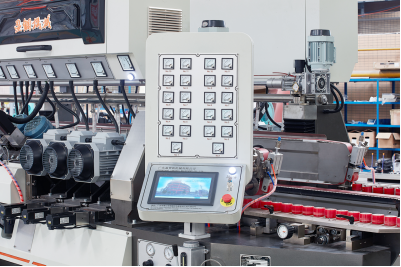 The double edger using PLC +Touchscreen with centralized-control system. The operator can monitor the current of each motor by control center. Please check the red circle with current meter. You can check the situation of motor by both of them, double-monitor system.
- Inhouse Machining Center
-The machine beam is 20mm steel, thick base to keep glass transfer smoothly, reliable use CNC machining
-Transmission beam with 5CM solid steel, and with stress relief heat treatment. Multi point fixed, to keep transfer smoothly and will never change.
- Structure of machine (The Base)
- W shape support bracket: The bracket of movable site system uses "W" frame design to increase the accuracy and stability, also it can extend the lifetime of the linear rack significantly, reducing the intervals of downtime.
- Main Transmission System
- The main gear box shaft sleeve adopts through sleeve structure, using high precision roller bearings, stable and reliable operation, long service life, reduce maintenance cost. Servo motor transmission is also available for option.
- Auto floating polishing (upgrade option)
| | |
| --- | --- |
| | The Auto floating polishing allowed user without any adjustment of the polishing wheel. Continuous pneumatic circulation with auto locking device allowed the resin wheel/CE-3 "touching" the glass edging surface lightly. Glass passing with less contact as possible. Nevertheless, the clean and smoothness resulted from the NO 1-3 with mechanical belt transmission, that have reduced the workload of polishing wheel dramatically. Finally, resulting in less wastage of the wheel. |
Transfer Table Configuration (4025 L-type)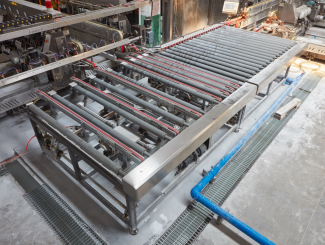 1. Motor configuration:
- Conveyor motor: variable frequency motor 2.2KW
- Roller conveyor motor 1: variable frequency motor 1.5KW
- Roller conveyor motor 2: variable frequency motor 1.5KW
2. Technical parameters:
1

Minimum size of the transfer glass:

350mm * 350mm




2

Maximum size of the transfer glass

4000mm * 2500mm




3

Thickness of the transfer glass

3-25mm




4

Total power

5.2KW




5

Dimensions

8100mm* 2900mm * 1000mm




Remark: When the size of the transfer glass changes, the external dimensions change accordingly.
ENKONGS SERVICE
- Machine and line installation and start-up.

- Training from ENKONGS field technicians. Customer training directly at the customer's site.

- Overhaul, upgrade, repairs and maintenance.

- Remote diagnostics and troubleshooting.

- Software upgrade.