In order to better understand the needs of customers, answer questions related to glass machinery for customers.Enkong Glass Machinery Supplier regularly organizes all sales to conduct glass machinery related product training.
This time, the knowledge training for the sales staff is mainly carried out from two aspects: personal presentation and professional glass machine technical guidance. First of all, we will let the sales staff talk about their understanding of related glass machine products through the display. When a presentation is completed, there will be professionals who will supplement the lack of knowledge of the glass machine sales staff. In this process, we not only deepened our understanding of the product, but also strengthened our communication ability during the interaction.Because of good communication skills, which make us better meet customer needs and fulfill the purpose of customer first.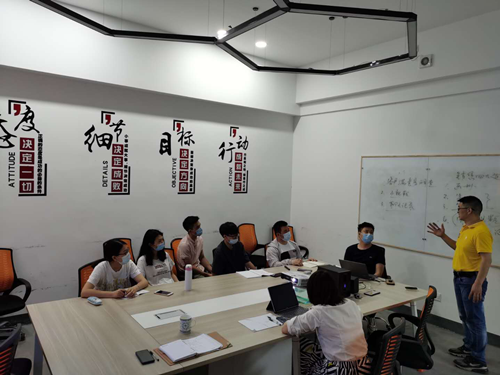 In glass machine salers training, we are involved in the glass machine product series:glass straight line machine、glass beveling machine、glass double edging machine and so on.Is there the type you want?Here we do not expand too much, if you are interested about glass machine products,please contact us, we will provide you with supreme service.
Today is not the first time we have trained sales staff, nor will it be the last. In the future, we will continue to enrich our training based on customer feedback to respond to customer questions. To improve customer satisfaction and achieve the purpose of customer first.
"Serving customers, achieving customers, pioneering and innovating, and pursuing excellence" is the constant pursuit of Enkongs employees, and sincerely looks forward to cooperating with new and old customers to create a better future in glass machinery industry.