The mechanism consists of a driving device and a gearbox. Compared with the conventional spline shaft gearbox structure, it saves complex intermediate rotation mechanism, has higher transmission efficiency, reduces the motor rotation frequency, achieves the purpose of energy saving, and improves the durability of the main transmission mechanism.Compared with the original structure, the transmission speed is increased by about 1.5 times.
The original mechanism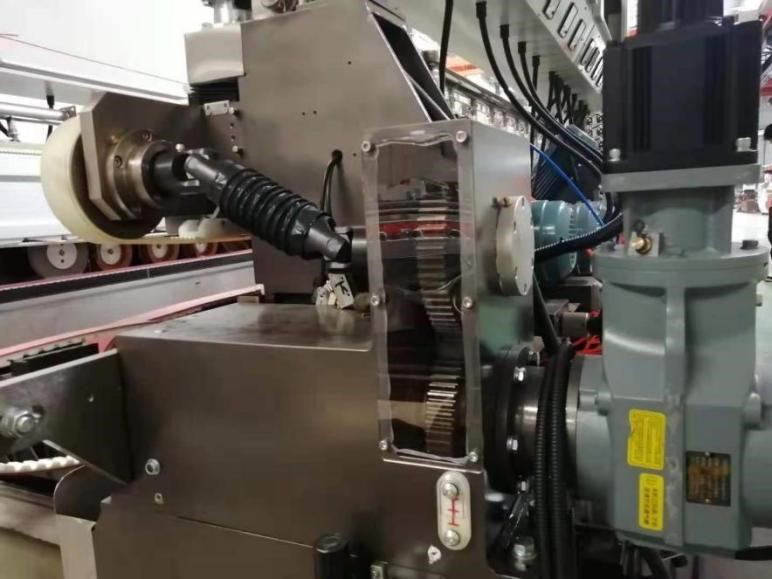 The original mechanism
When the utility model is put forward, the transmission structure usually adopted by the glass edging machine is relatively complex.The upper driving pulley and the lower driving pulley are respectively connected by two sets of independent transmission components, and the two transmission components are connected and driven through the connecting shaft. One of the transmission components and the driving device provides power, which has complex structure and difficult installation.
Advantages and beneficial effects of this structure
The purpose of the new structure is to solve the above problems and provide a main driving mechanism of glass edging machine with simple and reasonable structure. The main transmission mechanism of glass edger with this structure can realize the transmission of upper and lower synchronous pulley, and bear radial and axial load at the same time. Compared with the conventional spline shaft gearbox structure, the complex intermediate transmission structure is saved and the transmission efficiency is higher, reduce motor rotation frequency so as to achieve the purpose of energy saving, and the application of combined bearing improves the durability of main drive mechanism.
Because of its unique excellent design, this main drive structure is widely used in SM series of Double straight edging machine and SYM series of Double round edging machine in ENKONGS Company. It has become the main model of edging series and is favored by customers.