As a professional glass cold processing equipment enterprise, Guangdong ENKONGS Machinery Co., Ltd. focuses on the R & D and production of edge grinding equipment. Corporation with Guangdong Rekong machinery.co.,Ltd,on the basis of more than 20 years of experience in precision machining and design of variety parts, ENKONGS endows natural advantages and developed into a high-tech enterprise of glass edge grinding machine integrating self-design, processing and manufacturing, assembly operation, after-sales service and import & export business.
Opportunities and challenges for ENKONGS Glass Machinery
Its predecessor Guangdong ENKONG Machinery Co., Ltd., was founded in 2004. It is the first glass machinery factory to use CNC to process its machining parts; In 2017, ENKONG machinery changed its name to ENKONGS machinery, focusing on the edging machine series; Adhere to the enterprise to do "professional", with the craftsman mentality to do every detail, the edge grinding machine differentiation. In May 2021, ENKONGS glass machinery invested 10000 square meters in a new factory and established Jiangmen ENKONGS Intelligent Technology Co., Ltd., which will soon be put into production.
In the wave of the new era, ENKONGS has responded to the industrial upgrading trend of the national "manufacturing 2025", adhering to the design concept of standardization, modularization and intelligence, and on the basis of strengthening the functions of glass machinery, especially focusing on the stability of product internal structure and user experience,it has successfully transformed into a high-end and professional edge grinding equipment manufacturer.
At the 31st China International Glass Industry Technology Exhibition that just concluded, ENKGOGS exhibited SM24 full-automatic high-speed fine polishing double straight-line edging production line and SYM08 fast double Pencil edging production line, which were favored by visitors for their excellent configuration and excellent design.The following details for your reference.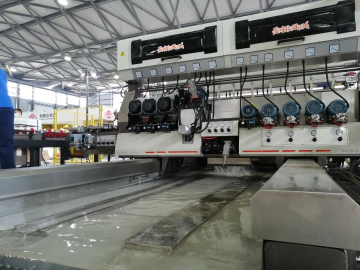 SM24 double straight-line edge grinding line consists of automatic testing platform, two double straight edge machines and connecting lines of relevant conveying turntables to realize automatic detection of glass length and width. 1# edge grinder grinds short edges, 2# grinding machines grind long edges, and the production speed of the whole line is 1-15m/min. PLC control system is used for the whole line to complete the processing once through the setting of processing parameters through human-computer interaction interface, with stable and solid substructure structure. The double straight edge machine adopts modular design, and can be optionally equipped with safe chamfering, reinforcing bottom edge and membrane removing device. The whole line is compact in structure, stable and reliable in performance, highly automatic and efficient, and is the best supporting equipment for the edge grinding production of decorative glass also scattered and miscellaneous parts.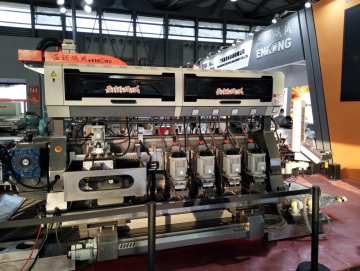 SYM08BP the double pencil edging production line grinds the short edge by 1# edger, and the transfer table automatically turns to 2# edger to grind the long edge. The production speed of the whole line is 1-15m / min (depending on the margin of edging). PLC control system is adopted in the whole line, and processing parameters are set through man-machine interface to complete processing at one time. It has stable and solid base structure, accurate and smooth fast opening and closing system. The machine adopts modular design, which can be optionally equipped with safety angle device and so on that your request. The edging machine is equipped with a safety rope protection mechanism to ensure the operator and maintenance personnel in an all-round way. With compact structure, stable and reliable performance, high degree of automation and high production efficiency, the whole line is the best supporting equipment for glass edging production in photovoltaic and home appliance industries, and can be used with gluing, printing, tempering and other production lines.
As General Manager Lin from ENKONGS said in an interview with China glass network media, now is the 5G era, ENKONGS edge grinding equipment has its own imagination and planning in terms of Intellectualize and wisdom innovation. We believe ENKONGS glass machinery will create more wonderful in the field of glass processing equipment in the near future.