It is suitable for ZM4, ZM7Y, ZM9, ZM9J, ZM11J of ENKONG

1. Take off the wooden pallet and the packaging. Put the machine on the ground.

2. Using spirit level ( gradienter ) to make the main-body of machine level by adjusting the screw bolt.



3. Install the two pillars, the infeed conveyor ,the output conveyor, ,adjust two sides of infeed conveyor and output conveyor to be level (see picture 1,2,3,4)




5. Install 2 water pumps (the round water tank for the polishing wheel), plug the pumps, connect the water pipes to the machine and lock them well .Put 2bags of polishing powder into the round water tank and mix them with water.


(6)For Polishing water tank (7)For rectangle water tank

6. Connect electric wires to the machine, and turn it on. You need to check the direction of the transmission system by pressing the Forward button. If the direction is wrong, just change over the red wire and the blue wire. (see the follow picture)



7. Check if the water nozzle at the right position.
Start the water pumps to check if there is enough water comes out from the Nozzle. If water coming out is very little, you need to check if the water pump is turning on the right rotation.. (See picture 6,7) Or the Nozzles are blocked.

8. Adjusting the handles to make all the wheels down enough for safety.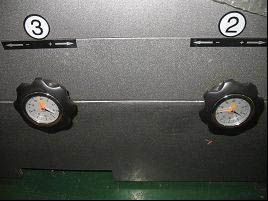 9.
A. Press the button of water pump
B. Turn on the all the spindles and one glass sheet(about 1.5m long) on the in-feed conveyer.
C. Connect air and adjust the pressure to about0.6~0.8MP,make the PLC screen at Manual, make the spindles of NO.4,6,8,9 up.


D. Stop the glass when the glass cover NO.1,2,3,4 spindles, adjust the handle to make the wheel touch the glass and then make it down a little. It is the same to adjust other wheels.
E. Adjust output conveyer belt just touch the glass when it comes out.
F. Now you can run the machine again, forward every spindle one by one.
Watch the Ammeter when you forwarding the spindle.( The numerical value of NO.1,2,5,6,7,8should be about 2.5A, NO.3,4,9 should be about 3.5A) If you want the quality very good ,the best processing speed is about 3m/min when you process 3,4,5mm glass, 2.5m/min for 8,10mm glass,1.2m/min for 19mm glass.
G. After all spindles are working on the glass. Check the quality. If there is no problem. You can run the machine in the Auto system.